Fridays are accompanied with: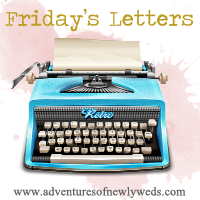 So, without further ado:
Dear Friday,
You mean I have no more classes till next Tuesday!
Dear Weekend,
Hooray for a weekend at the beach with a bunch of young ladies, leaders, (and a few of their husbands)! Youth Beach Retreat! I honestly don't care if it is sunny or stormy. I will be happy either way!
Dear Schoolwork,
You somehow multiplied last night.
I need intense motivation!
Dear Future,
I have to stop focusing on you so much! But, you are just so much fun to dream and plan!
Dear Readers,
Have a fabulous weekend!!!
You should check out:
Half-Country Hotels
Curious Cone-Topped Dessert
(Green Mint Chocolate Chip!)
Classic Hollywood Portraits
100 Sensational Summer Sandals
<--- There are some crazy ones!